The FiberwerX Racing team headed south to San Felipe for the start of SCORE international's 2019 racing season. Coming off back to back wins, the truck and team had the perfect momentum in preparation for the race. The truck was torn down to a bare chassis and prepped by the crew at HRT Motorsports. The motor had zero miles, the transmission was new, and Fox Shox had delivered a new set of their Trophy Truck shock package.
This race also had a very significant importance to the team. 2 months prior to the race, the team lost a very important member of their extended family. "Pistol" Pete Sohren was involved a tragic accident that took his life while in San Felipe. The team decided to dedicate this race to Pete. The typical FiberwerX blue and silver was replaced by the striking yellow that Pete always ran. FiberwerX has been manufacturing Pete's personal race bodies, as well as his Baja Lite racing program for nearly a decade. It was with great remorse when Pete's signature yellow gel coat was pulled off the shelf for potentially the last time.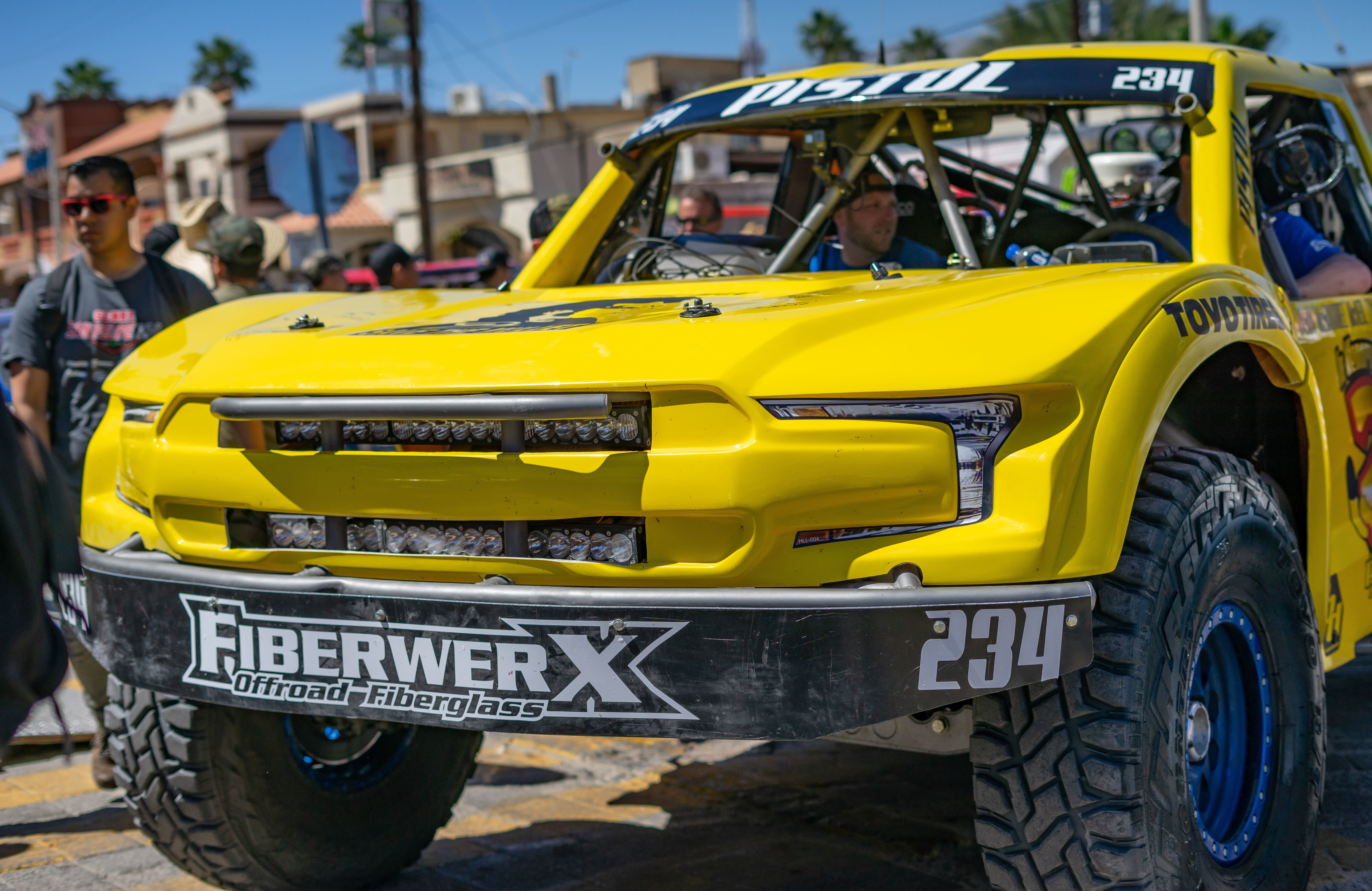 Driver Jason McNeil left the start line with a plan to put together a solid race, and fortify the team's position in points, and starting position for the remainder of the SCORE season. Jason picked off competitors very quickly making 2 passes by RM 10 as the truck passed it's first team members along the race course. The truck was extremely solid and felt great as it approached the challenging section known as Matomi wash. Within the first 2 miles of hitting the soft sand, the transmission popped and put the truck out of the race at RM 35.
Despite the disappointing race, the weekend's efforts were still looked at as a win. Thousands of Pistol's fans were able to connect with him. People cheered as they saw the familiar "Pistol" yellow roaring towards them. Pete was, and always will be a legend in off road racing. He is truly missed, and will never be forgotten by the FiberwerX team.
Copyright © 2018, FiberwerX Inc. All rights reserved.



Our mailing address is:
244 Millar Ave
El Cajon CA 92020
Want to change how you receive these emails?
You can update your preferences or unsubscribe from this list.
The post 2019 San Felipe 250, In Memory Of Pistol Pete appeared first on race-deZert.com.